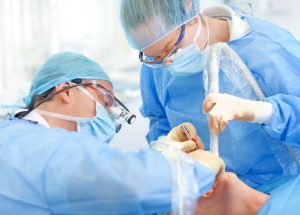 Need dental implants in Houston? Your general dentist may be qualified to place them, but for the best results, it's a better idea to trust your oral surgeon with the procedure. After all, just because you've changed a tire before doesn't mean you're the best person to handle your most complex auto needs. For a high quality tooth replacement, you can't do better than dental implants — and there's no one better to perform the surgery than Dr. Steve L. Koo at Piney Point Dental Implant Center!
Dental Implants: Best With an Oral Surgeon
Take a quick drive down I-10 and you'll see a number of billboards boasting faster, better, cheaper dental implants. Heavy marketing might lead you to believe that dental implants are a simple procedure — but that's just not true. Dental implants are placed in an oral surgery, and depending on the health of your jawbone before placement, you may also need a preliminary bone augmentation procedure (grafting or sinus lift) as well. The most successful dental implants take time, care, and are performed by an experienced oral surgeon.
Oral and maxillofacial surgeons like Dr. Koo have undergone substantial surgical training beyond their general dentistry education. That includes an additional four year residency in the hospital setting and one year of anesthesia training. Oral surgeons are able to anticipate, diagnose, and treat a range of potential surgical complications — hands-on experience dentists typically do not face in private practice.
Most dental implant procedures are successful and free of complications. But in the rare event that something unexpected does occur during your implant placement, you can feel confident knowing that an oral surgeon like Dr. Koo is on the case.
Why Choose an Oral Surgeon?
4 years' additional training in a hospital setting

Better equipped to handle surgical complications

Extensive training in anesthesia

Greater success for dental implant procedures

Regular engagement in continuing education helps them stay up-to-date

Greater peace knowing you're in expert hands
About Dr. Steve L. Koo
Dr. Koo completed his Oral and Maxillofacial Surgery residency through The University of Texas at Houston. Committed to broadening his experience through continuing education, he is currently a Diplomate of the American Board of Oral and Maxillofacial Surgery, a Fellow of the American College of Oral and Maxillofacial Surgery, and the Chief of Oral and Maxillofacial Surgery at Memorial Hermann at Memorial City.
Houston-area patients know they can rely on Dr. Koo for the very best dental implant care, and his excellence in implant dentistry has not gone unnoticed. Dr. Koo was voted a Texas Super Dentist in 2015, and was also listed in the Top Dentists in the Houston Monthly and Houstonia 2015 magazines.
Request an Appointment Today!
If you need dental implants, you could choose a general dentist — or you could give yourself big peace of mind by selecting a Houston oral surgeon to complete the procedure. Dr. Koo has extensive experience and training in even the most complex dental implant cases. Request a consultation at Piney Point Dental Implant Center today!