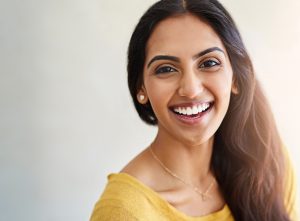 You know how to take care of your smile under normal conditions: brushing, flossing, and visiting your dentist regularly can help you avoid infection and decay. But once you have dental implants in Houston, how can you keep them clean for a lifetime to come? Excellent hygiene is especially important for your replacement teeth — and dental floss just may not be enough to prevent bacteria buildup. With dental implants, the water flosser is your best defense against infection and peri-implantitis, the condition that causes initially successful dental implants to fail. Take a few minutes to read our dental implant care tips today, then get to cleaning!
What Causes Dental Implants to Fail
The most common reason for dental implant failure is poor dental hygiene. A condition called peri-implant mucositis occurs most often as a result of the buildup of biofilm, or the combination of bacteria-filled plaque and tartar. When caught in the early stages, most cases of peri-implant mucositis are easy to reverse. But if left to worsen, the condition leads to peri-implantitis, the loss of bone tissue, and the likely failure of the dental implant.
In addition to implant failure caused by poor dental hygiene, dental implants may fail as a result of tobacco use, severe gum disease, or due to poor overall health.
How the Water Flosser Helps
Excellent dental hygiene is the best defense against peri-implant mucositis and peri-implantitis.
It may be difficult, however, for people to effectively floss around their dental implants, whether due to the implant positioning, placement, or simply because the patient can't remember to floss. The water flosser has been proven to help. One study shows that people who use a water flosser reduce bleeding around implants by twice as much compared to people who used string floss. That's significant! The water flosser works by shooting a steady, high-pressured stream of water between teeth and around the dental implants. With the "plaque seeker" tip, the flosser effectively removes biofilm and keeps the gums healthy to prevent dental implant failure.
How to Use the Water Flosser
To use the flosser, you should fill it with warm water to the recommended level. Lean over the sink and begin cleaning the back of your teeth. Set the pressure to whatever is comfortable for your gums, and work around each tooth along the gum line, concentrating especially on the area around your dental implants. You will probably find that using the water flosser is easier than using string floss, which is why many people who have never been able to develop a flossing habit have success with the water flosser.
Come See Us Today!
If you have questions about how to use a water flosser, or if it's just been awhile since you have visited your implant dentist, don't wait to schedule a visit at Piney Point Dental Implant Center. We're waiting for you! Request an appointment online today.