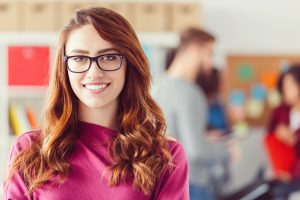 After you have one or more teeth replaced with dental implants, you won't have to worry about them developing tooth decay. You do, however, need to maintain good oral health and hygiene to protect the supporting bone and gum structure and enjoy a long-lasting tooth replacement. So how to care for your new Houston dental implants? Use these 4 steps: brush, clean between the implants, use a mouthwash, and visit your dentist for routine follow-up care.
#1: Brush, brush, brush
Make sure you brush your natural and prosthetic teeth gently, with a soft-bristled toothbrush, for two minutes every day. We recommend using an electric toothbrush, which will do a better job of removing the buildup of biofilm that can cause the dental implants to fail. Aside from generating more brush strokes than you can on your own, these electric toothbrushes also come with a self-timer to ensure you are brushing for the full two minutes, every single time you brush.
#2: Clean between teeth
Flossing is always an important component of dental hygiene, and that doesn't change once you have dental implants. However, it is important that you use a dental floss that does not shred or leave behind pieces of floss between teeth. You can play it safe by using a water pick — the team at Piney Point Dental Implant Center can give you instructions for proper use. We can also provide additional tools, like small brushes that you use to clean between teeth and remove plaque from around the dental implants. Never use metal instruments or anything that has not been approved by your dentist. Using the wrong tools can scratch your dental implant or cause it to disfunction.
#3: Add a mouthwash
While using a mouthwash or rinse is not a good substitute for thorough brushing and flossing, it is an excellent supplement for any dental hygiene regimen. Add a mouthwash to your routine to take the killing of harmful bacteria an extra step. During your routine checkups at Piney Point Dental Implant Center, we will evaluate the health of your mouth and determine whether or not a mouthrinse would be a good addition for your routine. If so, we can recommend an antimicrobial formula that will be maximally effective.
#4: Visit the dentist regularly
Your implant dentist will advise you on how often you should come into the office for follow-up care. During each visit, we will check in on the health of your dental implants, provide a thorough cleaning, and also make special recommendations for preventing implant failure, as needed. Patients who grind their teeth at night, for example, may benefit from a custom-fitted mouthguard/nightguard to significantly reduce pressure on the dental implants.
Contact Us Today!
Maintaining your Houston dental implants isn't so difficult at all — it just takes a little attention and dedication to keeping your smile happy and healthy. If it's been awhile since you visited the implant dentist or if you have questions regarding your tooth replacement, do not hesitate to get in touch with Piney Point Dental Implant Center!