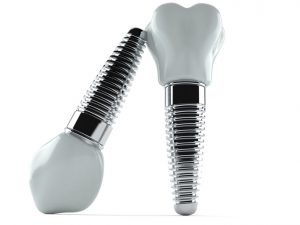 Hundreds of years ago, there weren't many services you could have performed in one day. Laundry? Maybe, if it was sunny and the clothes dried in time. But today, you can have your entire wardrobe dry cleaned and in your closet in under 24 hours. The same is true with your dental implants (well… sort of). With new methods and an expert approach, your implant dentist at Piney Point Dental Implant Center can place and restore dental implants in Houston in just one day.
Placing Your Dental Implants
The number of dental implants that can be placed and how long it takes to complete the procedure depends on your specific case. Sometimes, you can receive your Houston dental implants and their crowns in just one day (see Teeth In a Day below). But if you are better suited for traditional dental implants, your treatment plan may be carried out over several months. First, we'll place your dental implants, and after each implant has grown together with your jawbone, we'll attach the permanent crown(s). You won't be toothless throughout that time, though — temporary crowns are placed to ensure you never have to worry about flashing gaps in your smile.
No matter how many dental implants you need to replace your teeth, they can all usually be placed a single procedure. You won't have to worry about undergoing separate surgeries to complete the dental implantation. If, however, you need bone grafting done before your implants are placed (to build up additional bone structure that will support the implants), you'll likely need to undergo a separate procedure weeks in advance of your dental implantation.
Possibility for Teeth In a Day
In certain cases, your implant dentist can place and restore your teeth in under 24 hours. The procedure is known as Teeth In a Day or All-on-4 dental implants, and it replaces an entire row of missing teeth using as few as four dental implants. By strategically angling a slightly longer implant at the side of each jaw, these "one-stage" dental implants (those that are placed and restored in the same day) draw the maximum stability from the jaw bone.
Teeth In a Day is possible for patients who…
Have lost all teeth in the upper or lower jaw

Are on the brink of losing all teeth

Are in solid oral and overall health
Same Day Mini Dental Implants
Another option in one-stage dental implants is mini dental implants. This option replaces your missing teeth even when there isn't enough room for a traditional dental implant, or when you are unable to undergo an invasive procedure for traditional dental implants. Just like the name implies, mini dental implants are smaller versions of the traditional variety. Because they're smaller, your dentist can place them in a minimally-invasive procedure and often restore them in the very same day, so you don't have to spend any time without teeth.
Schedule an Appointment Today
To learn more about one stage dental implants, including whether or not you are a candidate for the procedure, please get in touch with the team at Piney Point Dental Implant Center. We are the experts people trust for Houston dental implants! Schedule an appointment today.