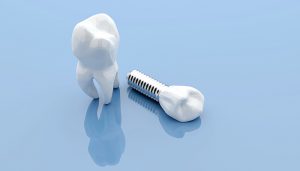 Sometimes, taking care of your health requires making a financial investment, and that is definitely the case when you are missing teeth. Tooth loss can take a toll on an otherwise healthy person — making it difficult to eat and increasing your risk of developing a host of other health issues. Fortunately, dental implants in Houston help to curb the negative effects so you can continue living a happy and productive life. That makes them worth their weight in gold!
What Is the Cost of Dental Implants?
There is no fixed price for dental implant procedures, and the total cost of yours will depend on several factors. Your implant dentist will consider how many teeth are missing, where in the jaw the gaps are located, and how healthy your jaw is when determining what your implant procedure will cost. Whatever the price, dental implants offer significant benefits for oral and overall health. Eligible candidates are strongly encouraged to choose this option after tooth loss.
What Makes Dental Implants Worth the Cost?
As a comprehensive solution which replaces the missing tooth as well as its supportive root structure, a dental implant stabilizes the jaw bone and promotes better oral and overall health for a lifetime to come.

Implant procedures are highly successful, with a failure rate of less than 5 percent.

Dental implants look and feel natural.

By making it easier to eat whatever you like, this tooth replacement option supports a balanced and nutritious diet.

Dental implants promote clear speech, eliminating the lisps and whistles that often develop with a traditional denture or as a result of having gaps in the teeth.

Prior dental misalignments can be corrected with dental implants.

With proper care and maintenance, dental implants can last for decades — with many lasting for the rest of the wearer's life.
Making Dental Implants More Affordable
Dental insurance often does not provide coverage for dental implants, but there are still ways to make this procedure fit more comfortably into your budget. Third-party financing is available through groups like CareCredit, an option which works like a credit card reserved for medical purchases. Simply swipe the card at the time of the appointment and make smaller, more convenient payments at the rate that suits your needs best. Additionally, you can talk to your implant dentist to find out if any in-office payment plans are available.
To sum it up, your oral health is no place to try to save a few bucks. Dental implants are certainly a worthy investment after tooth loss! Don't hesitate to find out what yours will cost by contacting your dentist to discuss Houston dental implants.  
Meet the Practice
Piney Point Dental Implant Center offers quality services for patients who need dental implants in Houston. From placement to restoration, maintenance, and recovery, this team does it all. You are invited to contact their office to schedule an appointment to discuss your tooth replacement options by calling them at (713) 597-7340.