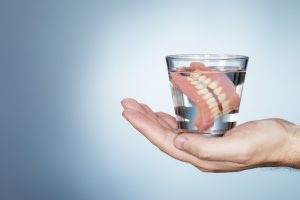 A denture is a great way to replace several missing teeth — especially if it is held in place by dental implants in Houston. Implant-retained dentures promote oral and overall health and also keep the denture(s) right where they should be throughout every meal, laugh, and spoken word. Taking excellent care of your new teeth will help you enjoy that confident smile for life — keep reading to learn more about how to care for an implant-retained denture!
Fixed or Removable?
The steps of your denture maintenance will depend on whether your denture is fixed, like an All-on-4 or All-on-6 style, or removable. A fixed denture is cleaned more like your natural teeth, while one that you take out and snap back on requires cleaning of the implant abutments as well.
For a fixed denture, simply brush the prosthetic with a toothbrush but no toothpaste (which can scratch the denture). Use a water flosser AND dental floss to clean around the gums, and consider wearing a protective mouthguard while you sleep to protect against teeth grinding and jaw clenching at night.

For a removable denture, you will need to clean the dental implant abutments with a brush once daily. Brush the denture itself with a soft brush and gentle hand soap or denture cleanser. Soak the denture at night to ensure it keeps its shape while you give your gums a rest.
When to Clean a Denture
Whether you are talking about natural teeth or an implant-retained denture, the best time of day to clean is in the morning after you eat breakfast and at night after you are finished eating for the day. Saliva production is reduced while you sleep, which means it is easy for bacteria to grow at night. Cleaning before and after bedtime will help to protect your dental implants from infection and other oral health hazards.
Additional tips for implant denture maintenance include:
No matter what type of denture you have, remember to brush your tongue.

Brush and floss between any remaining natural teeth as well.

Visit your dentist at least every six months (or more often if recommended) for a checkup and professional cleaning.

When cleaning a removable denture, remember to place a towel over hard surfaces or handle over a sink filled with water. This will help to cushion against any unexpected falls that could damage the denture.

If you notice a dental implant growing loose or uncomfortable, do not wiggle it. Contact your implant dentist ASAP.
Do you have additional questions about denture maintenance? Do not hesitate to get in touch with your implant dentist to discuss how to care for Houston dental implants!
Meet the Practice
Piney Point Dental Implant Center offers comprehensive services for dental implants in Houston from the comfort of a state-of-the-art office. Dr. Steve Koo encourages all patients to maintain excellent oral hygiene to enjoy their complete and healthy smiles for life. To learn more about how to clean an implant denture or to schedule an appointment with an expert restorative dentist, get in touch with the office by calling (713) 597-7340.