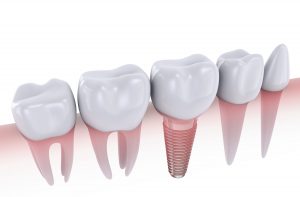 Dental insurance is supposed to make it easier to afford the services that you and your loved ones need to enjoy healthy smiles for a lifetime to come. As such, it seems to make sense that it would cover dental implants… right? In reality, most dental insurance policies will require you to choose the least expensive alternative treatment option — which excludes dental implants. But don't count comprehensive tooth replacement out yet. Keep reading to learn about how you can maximize insurance coverage with dental implants as well as some alternatives to make the treatment more affordable.  
Dental Insurance and Tooth Replacement
When it comes to your options in tooth replacement, you can't really do better than dental implants. Nothing else provides a whole-tooth replacement like a dental implant, which takes care of the tooth's root as well as the crown that helps you chew and speak. That's great news for your oral health. But as far as dental insurance companies are concerned, dental implants are also the most expensive option — and traditional dentures or a fixed bridge offer a similar solution for far less money. Most policies will require you to choose these latter options, often at the expense of your oral health. However, certain portions of the implant procedure may be partially covered by dental insurance, like the dental crown or procedures that need to be performed first.
Because dental implants are much more successful than non-implant retained options, most dentists will advise you to make decisions based on what is in the best interest of your oral health rather than just on what dental insurance will cover.
Financing Your Dental Implants
Even for patients who do not have any help from dental insurance, there are creative ways to make this replacement option more affordable. Patient financing options through groups like CareCredit can help you to make convenient payments on your dental implants at the pace that suits your budget best. CareCredit works just like a credit card — simply swipe it at the time of the treatment and then pay off your bill at a gradual pace. You can find out whether or not you are approved for CareCredit within seconds.
When you schedule a consultation with your implant dentist, you will thoroughly discuss your payment options and how you can help to ensure that your tooth replacement fits well within your budget. Even if your dental insurance doesn't cover much, don't be put off by the seemingly high cost of dental implants. They are well worth the investment in the long run!
Meet the Practice
Piney Point Dental Implant Center offers a full list of implant dentistry services from the comfort of a state-of-the-art practice. To learn more about dental implants or to schedule an appointment to discuss their cost or how you can make implants more affordable, you are invited to contact the office at 713-597-7340.