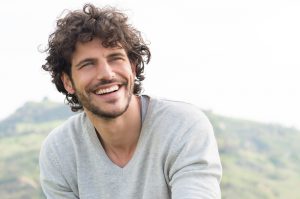 With growth in technology and improved materials, the medical world is rapidly advancing — and it seems implant dentistry is among the areas that have seen the most dramatic improvements over the past several decades. In the 20th century alone, we advanced from shaky implants with a low rate of success to today's modern, osseointegrated dental implants that promote oral and overall health. And the advances don't seem to be stopping now. Indeed, the future looks brighter than ever for dental implants in Houston!
Keep reading to learn how changes in technology, techniques, and materials will influence the future of implant dentistry.
Dental Implants: Future Technology
It's not surprising that advances in technology promise to be one of the most significant factors influencing the future of dental implants. With faster Internet speeds and more sophisticated collaborative technology, we are already benefiting from easier communication between clinicians, specialists, and dentists in the preparation for dental implants.
With cone-beam CT scanning (CBCT) and associated CAD/CAM (computer-aided design and manufacturing) capabilities, planning and execution of complex cases is now more effective than ever. Digital scanning in place of traditional impressions improves the design of abutments and restorations — i.e., your replacement teeth.
Look for more exciting advancements in dental implants thanks to…
3D printing

Cone-beam scanning

In-house milling machines and CAD/CAM technology
Future Techniques
We are seeing exciting advancements with certain dental implant techniques — especially immediate-loading. The "Teeth In a Hour" treatment provides dental implants that are restored in just one appointment. What started out as an experimental (but exciting) treatment is now more predictable and effective than ever.
We also discussed the promise of magnet healing in a previous blog post, and don't forget that nanodiamonds may help speed up bone growth in advance of dental implants. These and other techniques (like blood platelet growth factors) used to be refined to a special lab — but are quickly becoming accessible to a greater number of oral surgeons and their patients.
Materials
Most dental implants are made from titanium, but patients with allergies can benefit from zirconium dental implants. The implants themselves are also available in various sizes and widths. Certain patients are eligible for one-stage dental implants, in which the prosthetic teeth are loaded at the same time as dental implantation.
Piney Point Dental Center already offers a number of options in dental implants. We expect the variety in dental implant materials and sizes to continue to grow in the coming years — and we look forward to staying at the forefront of these advances.
Houston Oral Surgeon Stay Up-to-Date in Implant Dentistry
Through continuing education and a devotion to excellence, Dr. Steve L. Koo and Dr. Tom W. Weil provide the latest in dental implant care at Piney Point Dental Implant Center. Patients can feel confident knowing we will continue to use the latest technologies, methods, and equipment to provide the ultimate in implant dentistry. If you would like to discuss your own tooth replacement, please do not hesitate to get in touch with us. Request a personalized consultation today!
Resource: Dentistry Today, "The Future of Implant Dentistry"