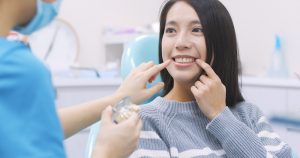 Dental implants are rapidly increasing in popularity, and you can now find a number of dental practices offering implants to their list of services. But as you begin your search for tooth replacement, you should know there is a big difference between a dentist who specializes in implant dentistry and someone who just offers dental implants in Houston alongside a long number of other services in restorative, cosmetic, and general dentistry. Keep reading to learn how you can identify a real expert — a list of questions to ask an implant dentist follows.
What to Ask Before Getting Dental Implants
You should consult more than one dental practice before you choose a dentist to perform your dental implant procedure. During a dental implant consultation, you will get the chance to ask all the questions you may have about the dentist and your proposed treatment plan. Doing your prep work beforehand will help you go into this visit with a list of questions to ensure that you do not leave with any remaining doubts.
Some of the things you may want to ask your potential implant dentist include:
What is the proposed treatment plan? Are there any alternatives, and what are the pros and cons of each?

How many similar dental implant procedures have you performed?

Do you have any special accreditations or training in implant dentistry?

Do you have case studies to prior procedures you can share with me?

What is the recovery time of my proposed treatment plan?

What would the financial cost of my dental implant procedure be?

Is there anything else I should know about my tooth replacement options?
And anything else you may be curious to find out! The consultation is really your time to get to know the dentist and find out what your dental implant treatment plan might look like. Take the time to get the facts straight to ensure that you are well-informed.
The Importance of Specialization
A prosthodontist has undergone three years of additional training beyond dental school to become an expert in the restoration of smiles after tooth loss. Visiting this type of specialist for your tooth replacement will ensure that the dental implants are placed with superior expertise and attention. A general dentist may spend their days performing a number of treatments alongside occasional dental implant services — but a prosthodontist is a real specialist in this type of procedure. That means they should be well-versed in the technical facets of placement and restoration, which makes a significant difference in more complex cases of tooth replacement.
To conclude, when it's time for dental implants, it's time to ask the right questions — and taking this list along with you can help!
Meet the Practice
Dr. Steve L. Koo and Dr. Tom W. Weil of Piney Point Dental Implant Center are prosthodontists offering high-quality care from the comfort of a state-of-the-art office. They specialize in the placement and restoration of Houston dental implants as well as related procedures, including bone grafting. To learn more about your options in tooth replacement and to find out about what your treatment plan might look like, you are invited to contact this office by calling 713-597-7340 today.