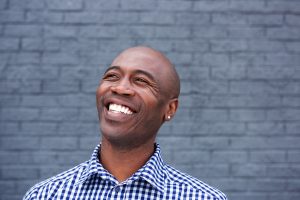 Because no two smiles are the same, each case of tooth replacement is different from the one that came before or will come next. Your implant dentist will consider a range of options before determining which type of dental implant in Houston is best for you. The decision will be based on how many teeth you are missing, how healthy your mouth is, where in the jaw the missing teeth are located, and other factors. Keep reading to find out about the different types of dental implants that are available for people with missing teeth!
Your Options in Dental Implants
All dental implants offer a prosthetic root to support the crown, bridge, or denture that will be affixed on top. While this remains the same across all types of dental implants, the size, shape, and method of placement may vary.
Below are some common differentiations in implant dentistry.
One-stage dental implants: These can be placed and restored in the same procedure, so you are able to leave with a fully-functioning tooth replacement on the same day as your dental implants are placed. This type of implant is often suitable for patients who have lost significant bone structure in the jaw.

Two-stage dental implants: The traditional option, this type of dental implant is shorter than one stage implants and requires a second procedure when the implant post is exposed and a permanent restoration is affixed to a connecting abutment.

Mini dental implants: This type of dental implant is smaller than the traditional type, and can be used in tight spaces or when there is not sufficient jawbone structure to support a larger implant.

All-on-4 dental implants: Used specifically in instances of complete tooth loss in the upper or lower jaw, All-on-4 is a one stage implant process that allows a complete denture to be supported on just four dental implants.

Zirconia implants: Most dental implant posts are made from titanium, but zirconia is becoming increasingly popular as an option for patients with metal sensitivities or those who wish for a more aesthetically pleasing solution.
Are You a Candidate for Dental Implants?
The increasing variety available with dental implants means that more patients are eligible for this comprehensive tooth replacement option than ever before. No matter how many teeth you are missing, you just may be a great candidate for dental implants. The only way to find out for sure is to schedule an appointment with your dental implant dentist. If they are a good option for your smile, that's great news! You deserve to enjoy the stability and other benefits available from Houston dental implants.
Meet the Practice
Piney Point Dental Implant Center offers comprehensive dental implant dentistry from the comfort of a state-of-the-art practice. To discuss the different types of dental implants available or to learn whether or not you are a candidate for this option, you are invited to schedule an appointment by calling 713-597-7340 today.