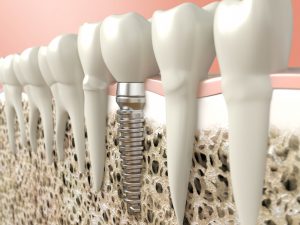 If you've been considering your options in tooth replacement, you've definitely come across dental implants by now. How much do they cost, exactly? The only way to know for sure is to visit with your periodontist. Dr. Koo or Dr. Weil will examine the extent of your tooth loss and consider a few other factors to give you an accurate estimate of how much you should expect to budget for your tooth replacement. Keep reading to find out more about what these factors are, and whether or not you can expect dental insurance to partially cover your dental implant procedure. It's time for the last entry in Basic Questions on Dental Implants — what's the cost of dental implants in Houston?
Factors Influencing the Price of Dental Implants
There is no one-size-fits-all price tag when it comes to Houston dental implants. Each procedure will vary in cost based on a few considerations, which your periodontist will discuss with you in detail during a consultation. These include…
Health of your jawbone: Patients who have been missing teeth for a while or who have had gum disease in the past may not have enough sturdy bone structure to support a dental implant. In these cases, a bone graft can help — but it adds to the overall cost of the dental implant procedure.

How many teeth are being replaced: Because each implant is priced individually, the number of missing teeth will greatly influence the total price of the procedure. In general, the cost of replacing a single tooth with an implant is about the same as getting a fixed bridge.

Where in the mouth the missing teeth are located: Placing implants in the front of the jaw is a bit more complex than those in the back, as aesthetics are of primary concern. As a result, front teeth are a little more expensive to replace than molars and premolars.

What the implants are made out of: Patients who are allergic to metals or who wish for a non-metal option may choose a zirconia or ceramic dental implant. These special materials come with a higher price tag than traditional titanium implants.
Does Dental Insurance Cover Dental Implants?
Dental insurance can help you save on everything from checkups and cleanings to fillings, gum disease treatment, and more — so it should cover a dental implant in Houston, right? Unfortunately, most insurance plans still do not extend coverage to this method of tooth replacement. This is even despite the fact that dental implants are well-regarded as the best option for missing teeth. Even when dental insurance does not help out with the cost of dental implants, we strongly encourage eligible patients to choose implant dentistry. It's truly in the best interest of your oral and overall health!
Learn More about Dental Implants!
We hope you have enjoyed this series on Basic Dental Implant Questions. If you have remaining questions about a potential Houston dental implant procedure, we hope you will get in touch with Piney Point Dental Implant Center. We look forward to helping you get started with your new, complete, and confident smile!
Meet the Practice
At Piney Point Dental Implant Center, Dr. Steve Koo and Dr. Tom Weil provide dental implant patients with exceptional care. If you are missing teeth and would like to discuss your options in implant dentistry, please do not hesitate to contact the office at 713-597-7340.