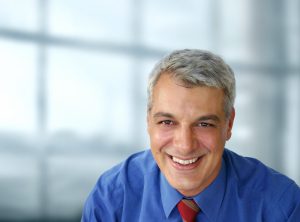 Dental implants in Houston provide unparalleled stability and security after tooth loss. As they grow in popularity, more people are coming to us with questions about dental implants — from the very basics all the way to the nitty gritty details. To help unwrap the mystery surrounding this method of tooth replacement, we're doing a five-part series on what you need to know about dental implants. Keep reading for part one, when we answer what dental implants really are.
Dental Implants Are Replacement Roots
A common misconception when people think about what dental implants are is that they are the actual replacement tooth. Not so! Rather, the dental implant is actually a replacement for your missing tooth's root. It is surgically implanted directly beneath the gum line, in the area where the root structure was. Once it is here, the titanium material (which dental implants are made out of) promotes the growth of bone tissue. It gradually fuses with the jaw over the period of four to six months. After this fusion is complete, the dental implants are exposed once more and the replacement tooth/teeth can be placed on top.
A traditional dental implant, therefore, is made of three parts:
The titanium dental implant post, which provides a sturdy foundation for the prosthetic tooth.

A connecting abutment, which joins the two implant post and the replacement tooth/teeth securely together.

The prosthetic crown, bridge, or denture which is connected to the dental implant post.
The tooth replacement option that is right for your smile depends on how many teeth you are missing. A single implant and crown can fill the gap left by one lost tooth, while several teeth can be replaced with a bridge. A complete implant-retained denture can replace an entire arch of teeth.
As an alternative to traditional dental implants, there are other types of implants that do not require a connecting abutment. All-on-4 is a dental implant method for patients who have lost an entire arch of teeth, and it uses longer implants that already have a connector at the top. In this way, the dental implants can be restored with a complete denture on the very same day, without having to wait for the posts to fuse with the jawbone first.
Where to Learn More about Dental Implants in Houston
Stay tuned for our next post on what you should know about dental implants, in which we answer what makes a good candidate for this tooth replacement. In short, it takes good oral and overall health to safely undergo the procedure. If you have further questions about dental implants or if you would like to find out whether or not this method of tooth replacement is right for your smile, we invite you to get started by contacting our Houston office today! Because you deserve all the benefits of a complete, beautiful smile.
About Piney Point Dental Implant Center
The team at Piney Point Dental Implant Center offers comprehensive implant dentistry services with an extra helping of care and expertise. To learn more about Houston dental implants, including whether or not they are right for your smile, we invite you to contact the office at 713-783-5560.