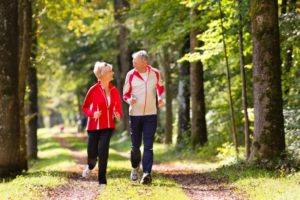 If you ask any medical professional how you can live a long and healthy life, they are likely to mention things like exercise and proper nutrition. They might not talk about your oral health — but the state of your teeth can actually influence your life expectancy! Specifically, tooth loss is associated with an increased risk of death. Let's talk about why that is the case and how dental implants may be able to help you enjoy all that life has to offer for as long as possible.
Missing Teeth and Shortened Life Expectancy
Heart disease is the leading cause of death of death in the United States, and research indicates that people who have lost 5 or more teeth by age 65 are more likely to develop it. Such individuals are also at an increased risk of diabetes and osteoporosis, both of which can lead to a shortened lifespan. It is also noteworthy that seniors who have a full set of teeth at age 74 are much more likely to reach age 100 than those who suffer from tooth loss.
What is the reason for the strong correlation between tooth loss and a shortened life expectancy? One possible explanation is gum disease, which is a common cause of missing teeth. The bacteria that cause gum disease can sneak into the bloodstream and affect other bodily systems, increasing the risk of heart attack, stroke, and other problems. Another possible reason is that tooth loss and other health problems often have risk factors in common, such as smoking and a poor diet.
Dental Implants — A Key to a Longer Life?
Dental implants are sometimes called "the next best thing to natural teeth." That statement is certainly true! This form of tooth replacement offers many benefits, including ones that have the potential to help you live a healthier — and perhaps longer — life.
A strong bite. Research has found that senior men with a weak bite are up to 84% more likely to pass away before they reach their mid-80s than those who have a strong bite. Dental implants provide a bite force that is much stronger than what you would get with traditional dentures.
The ability to eat a healthy diet. Some people who have lost multiple teeth lack variety in their diet, which can lead to nutritional deficiencies. Dental implants can enable you to eat virtually anything, including raw vegetables, crunchy nuts, tough meats, and so much more.
An improved social life. Chronic loneliness and social isolation are both linked to a heightened risk of death. If tooth loss had negatively affected your social life, dental implants may give you the confidence you need to go on dates, smile in photos, and truly enjoy your interactions with other people.
Lower risk of future tooth loss. Tooth loss is often followed by further tooth loss. Dental implants may decrease the chances that you will lose more of your natural teeth.
Tooth loss could shorten your life! Fortunately, though, dental implants can restore your smile and perhaps boost your longevity.
Meet the Practice
Dr. Steve Koo is a Diplomate of the American Board of Oral and Maxillofacial Surgery. He has nearly 15 years of experience in his field. Together with other local experts, he offers comprehensive dental implant services. If you would like to consult with our team about your tooth replacement options, contact us at 713-597-7340.