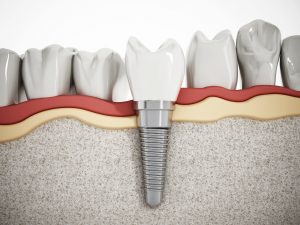 Almost all dental implants are made out of titanium — a trusted solution, given titanium's ability to integrate with healthy bone tissue. But because this material may not be a viable option for everyone (like people with metal sensitivities), new research showing that magnesium can be a suitable alternative to titanium is encouraging for the implant world.
The Science Behind Dental Implants
Dental implants work so well due to something called osseointegration. It was discovered by accident in the 1950s by a physicist who was studying bone regeneration in rabbits. He found that titanium could actually spur new tissue growth to fuse together with the bone — and dental implants have been made from that material ever since.
The procedure works like this. First, dental implants are placed beneath the gum line. Then, over a period of four to six months, osseointegration occurs. Patients should be in good general health to ensure a healthy recovery. Once the implants have grown together with the jawbone, they are ready for restoration, when the crown, bridge, or denture is affixed on top.
How Magnesium Could Change the Game
Magnesium is a material that degrades over time — and as such, doesn't make the most appealing option for dental implants in its original state. But researchers at New York University are testing how exposing magnesium to heat before implantation can keep it from degrading and possibly make it a viable alternative to titanium dental implants.
What have they found? That by heating up magnesium to 210 degrees celcius for 48 hours, they can drastically reduce the degredation process and also strengthen the material to prevent damaging bubbles from forming on its surface.
Compared to titanium, magnesium offers a number of benefits, says Andrea Torroni, MD, associate professor with the Wyss Department of Plastic Surgery at the NYU School of Medicine."It exhibits lower long-term risks because it resorbs. And, it can promote bone formation and bone healing. It is totally biocompatible with no risk of rejection and limited risk of infection," she says.
The research was published in Dentistry Today.
Dental Implants: A Comprehensive Solution
Findings like this one point to an even brighter future for dental implants. This is the only replacement option that gives you back your missing tooth's root as well as its visible crown, promoting bone growth in the jaw to prevent further tooth loss and a weak jaw.
Many patients who are in solid oral and overall health can benefit from dental implants, and that number is only growing as options increase. If you are missing one or more teeth, do not hesitate to get in touch with your implant dentist to learn about your candidacy for this excellent option in tooth replacement.
About the Authors
Dr. Steve Koo and Dr. Tom Weil are trusted implant dentists offering comprehensive tooth replacement options for Houston and surrounding areas. To learn more about their services or to schedule an appointment, please do not hesitate to contact Piney Point Dental Implant Center at 713-597-7340.