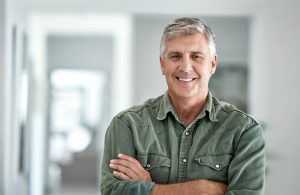 If you need to have one or more teeth replaced, you know that dental implants are the best option available. Nothing else gives you back your missing tooth as well as the root that supports it — by mimicking the natural tooth structure, your new teeth benefit from maximum stability. But what do dental implants cost? You may be put off by the initial cost of implants, but they're far and away the wisest investment you can make in your oral health. The cost of dental implants varies from patient to patient. There are a number of factors that can make your implants cost more or less than someone else's — let's take a look at your options in dental implants first.
Your Dental Implant Options
The traditional dental implant procedure is completed in two phases: initial implantation and the final restoration of the dental implant, when the prosthetic tooth is affixed on top. If you have only lost one tooth, you'll need a single dental implant restored with a dental crown. Several teeth are replaced with an implant-retained bridge. Mini dental implants, as the name suggests, are smaller versions of traditional dental implants. A whole row of missing teeth in the upper or lower jaw can be replaced with the All-on-4 or Teeth In a Day method.
Preparatory Procedures Increase Cost
If you have lived with missing teeth for a while, you have likely experienced considerable loss of the jaw bone. If degeneration has occurred, you do not have enough healthy structure for the successful anchoring of the dental implants. Bone augmentation procedures help people become eligible for dental implants, but a bone graft or sinus lift does add to the overall cost of the dental implants. Dr. Koo is your Houston oral surgeon providing efficient, effective bone augmentation procedures for patients.
Ok, So What's the Cost of Dental Implants?
Dr. Koo will discuss with you what you can expect when it comes to the final price tag of your dental implants. Below is a rough breakdown of the cost of each type of implant you can get, without any fees for preparatory procedures, like bone grafting or sinus lift, factored in.
Traditional dental implants: $4,000 per implant
Implant-retained bridge: From $4,000 to $30,000
Mini dental implants: $500 to $1,000 for one, $12,000 to $30,000 for a lower denture
All-on-4 dental implants: Around $30,000
Dental Implants: A Healthy Investment
If you're stressed thinking about the cost of dental implants, don't be! Dental implants are worth their cost — and then some. Other options in tooth replacement must be replaced to keep up with the diminishing shape of the jawbone. Dental implants, however, stabilize the jaw and can be expected to last a lifetime with proper maintenance. You'll pay a higher cost upfront, then reap the rewards of a sturdy, long-lasting smile for years and years to come.
Request an Appointment Today
Are you missing teeth? Don't let the cost of dental implants deter you from making an excellent choice for your oral and overall health. Schedule an appointment to discuss Houston dental implants today!