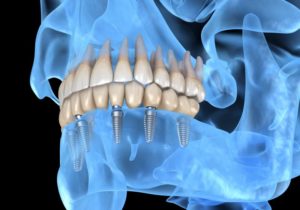 If you are thinking about getting dental implants, you have an exciting journey ahead of you. One of the most important parts of that journey will be your implant placement surgery. Dentists and oral surgeons may use a variety of techniques to insert the implants into patients' jawbones. For example, some of them use conventional methods, while others utilize highly advanced technology. Let's talk about the major differences between regular and computer-guided implant placement surgery.
Conventional Placement
Conventional dental implant placement, also called freehand placement, is what most surgeons and dentists are trained to do. After they carefully study the patient's oral anatomy with the help of X-Rays and/or CT scans, they insert the implants into the jawbone at an angle and location that they believe is best. Then, they use an X-Ray to check if the implants were properly inserted.
While that might sound a little scary, this technique is successful most of the time. It usually finds the greatest success in patients who require just one dental implant. In fact, it may actually be desirable in such cases because it can be less costly and time-consuming than methods that rely more heavily on technology. However, the chances of incorrect placement increase in complex cases, such as when a patient is missing an entire arch of teeth. Computer-guided placement is the superior option in such instances.
Computer-Guided Placement
In computer-guided implant placement, the oral surgeon uses a CT machine to create a highly detailed, three-dimensional representation of the patient's mouth. Then, they create detailed surgical guides that help them navigate the patient's unique oral anatomy. They can thus ensure that the angle, location, and depth of the dental implants are optimal.
Some of the most noteworthy advantages of this technique include:
It minimizes the risk of human error, dental implant failure, and postoperative complications.
It allows oral surgeons to create smaller incisions, which means patients may enjoy a shorter and more comfortable recovery.
It may allow some patients who were previously not candidates for dental implants to take advantage of the treatment.
Ask Your Oral Surgeon about Their Techniques
Many dentists and oral surgeons do not have the technology or the training to perform guided implant surgery. Therefore, it is important that you ask questions about which techniques your dental implant team typically uses. Partnering with someone who offers guided surgery can ensure you receive the best possible care throughout your treatment journey, particularly if you are missing multiple teeth or have complex oral anatomy.
Conventional and computer-guided implant surgery both have their place, but in many cases, one is preferrable over the other.
Meet the Practice
Dr. Steve L. Koo and his fellow oral surgeons at Piney Point Dental Implant Center have many years of experience with dental implants. They have invested in a range of advanced technology, including all the tools that are necessary to perform computer-guided dental implant placement. To learn more about them and the surgical techniques they use, contact our practice at 713-597-7340.