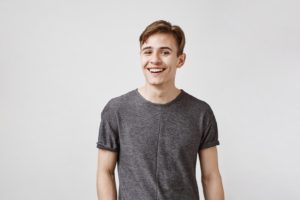 It is common for teenagers to be self-conscious. If your teen has lost one or more teeth due to infection or injury, therefore, they may be eager to fill in the gap. Dental implants are the best way to replace lost teeth, but you may wonder, can teenagers get dental implants? Or are there age restrictions that come with this treatment? Let's discuss the answer to these important questions.
Teens Are Still Growing
The process for placing dental implants involves a surgery, during which prosthetic tooth roots are inserted into the jaw. Teens are not done developing physically, so their jawbone is not yet fully grown. Placing implants too soon could lead to problems down the road.
For example, the bone's changing shape could cause the implants to shift out of place, a problem that could interfere with the prosthetic teeth on top of the implants. It could even lead to dental implant failure.
Due to the risks involved with placing dental implants in teens' jaws, most oral surgeons prefer to wait until a patient's bones have finished growing before they move forward with the procedure.
What Is the Minimum Age for Dental Implants?
People grow and develop at different rates. Therefore, there is no hard and fast age minimum for dental implants. Some older teenagers — 16 and above — might qualify for the procedure. Others might have to wait until they are in their early 20s.
Generally speaking, girls become candidates for implants before boys. This is simply due to the fact that females tend to reach physically maturity sooner than males.
The location of the missing tooth can also have a bearing on when a patient is eligible for implants. The upper jaw tends to finish growing before the lower jaw.
Of course, even if you are relatively sure that your teen is not yet ready for implants, you can still bring them to an oral surgeon for a consultation. After a thorough examination, the surgeon can let you know when your teen might be ready for the procedure and whether any preliminary treatments might be necessary beforehand.
Tooth Replacement Options for Teens
Teens who are too young for implants may choose to take advantage of another form of tooth replacement. For example, they might choose to get a partial denture, which is a removable prosthetic that is easy to clean and maintain. A bridge is another option, but it comes with a downside; it requires that the teeth next to an empty space be modified. Your dentist can help you and your teenager to consider the pros and cons of any tooth replacement solution that they are eligible for.
Most teenagers are not yet able to get dental implants. With time and patience, however, many young people do eventually qualify for this remarkable treatment.
Meet the Practice
Drs. Steve Koo, Thomas Weil, and William Shepard are the board-certified oral and maxillofacial surgeons at Piney Point Dental Implant Center. They have extensive combined experience, and they are capable of handling even the most complex dental implant cases. If you or your teen is interested in getting implants, our team would be pleased to welcome you in for a consultation. Contact us at 713-597-7340.