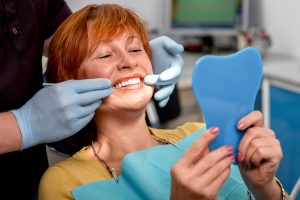 We know the holidays are busy, but If you're missing one or more teeth, finding an effective replacement should be at the top of your to-do list. Patients of Dr. Koo know there's no better method of replacement than with the dental implant in Houston. Want to enjoy a smile that's highly successful, long-lasting, and natural-looking? Of course you do — and you really can't do better than dental implants.
Dr. Koo offers a number of dental implant services. From the initial implantation of each implant to final restoration and continued maintenance, Houston-area patients can turn to Piney Point Dental Implant Center for comprehensive implant care.
What Makes Dental Implants the Best Choice?
You've heard us tout the benefits of dental implants time and time again — but what really makes them the best option in tooth replacement? It's that nothing else provides a truly whole-tooth solution after the loss of one or more teeth.
Dental implants are a comprehensive solution that give you back your missing tooth's root as well as the crown, or the portion that shows when you smile. Your mouth needs both for continued health and a restoration that fits like it should for years to come.
In successful candidates, dental implants have a success rate as high as 95 percent. And while you may pay more upfront (a single dental implant costs between $2,500 to $5,000), it's a one-time fee for a restoration that will likely never need to be replaced. Fixed bridges, on the other hand, must be replaced every ten years or so, even when everything goes right. That means you'll be paying the same price (around $2,000 for a three-piece bridge) every time.
But it's not only the best financial choice — your oral health benefits from dental implants, too. With a replacement root, the jawbone stays stable and healthy. Non-implant retained replacements do not support the bone, leaving it to degenerate over time. Your facial structure ends up looking sunken and aged as a result.
The conclusion? Dental implants are not only the best financial investment you can make. They support your overall health, too.
Dr. Koo Provides Expert Implant Care
There are a number of options available with dental implants, and the one that is right for you depends on your health, the extent of your tooth loss, and your budget. Patients who are missing a full arch of teeth in the upper or lower jaw may benefit most from All-on-4 dental implants. Wide implants are recommended for replacing a tooth in the back of the jaw, while narrow dental implants are often needed for front teeth.
Dr. Koo will examine your mouth, discuss your unique case, and help you understand which is the best option for your smile.
If you have lost one or more teeth, don't delay replacement. Find out if you are a good candidate for dental implants this month! Eligible patients are those who enjoy good oral and overall health. Contact Piney Point Dental Implant Center to schedule a consultation for tooth replacements today.