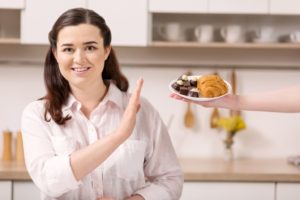 Dental implants are a remarkable form of tooth replacement that can restore your ability to eat virtually any food, from raw veggies to savory steaks and everything in between. Before you reach that point, however, you will go through a complex treatment process, part of which is dental implant surgery. In the days and weeks after the implants are placed in your jaw, you will need to make smart dietary choices in order to facilitate a comfortable, complication-free recovery. Here is a list of foods to avoid during that critical time period.
Hot and Spicy Foods
Spicy and hot foods can cause irritation at your surgical sites, thereby slowing down your recovery. They could even increase your risk of infection. To stay on the safe side, you should say no to foods that are extremely hot as well as anything that has been heavily seasoned.
Alcohol
If you are in the habit of occasionally enjoying a glass of wine or a nice cocktail, you will have to put that custom on hold following your dental implant surgery. Alcohol can slow down healing and contribute to increased swelling. It could even have dangerous interactions with your post-op pain medications.
Chewy or Sticky Foods
You can expect some soreness in your jaw after your implant surgery. Expending a lot of energy to eat sticky or chewy foods would only add to your discomfort. Things like pizza crust, chewy candies, and tough meats should be removed from your menu for a while.
Crunchy Foods
Crunchy foods tend to break into countless hard pieces when you chomp down on them. Those pieces pose a threat to your surgical sites; they could cause pain, slow down healing, and heighten your risk of infection. Therefore, it's best to avoid things like popcorn, chips, crackers, and nuts.
How Long Will the Restrictions Last?
Your oral surgeon will give you detailed guidance to help you through your post-op recovery period. Most patients should adhere to a strict "no-chew" diet for about one week. During that time, your menu should consist mostly of items like brothy soups, pudding, and applesauce. Then, you may begin to add in foods that are easy to cut with the side of a fork, such as soft breads and broiled fish. When you are no longer taking painkillers, it might be safe to begin consuming alcohol again in moderation.
After you get your dental implant restorations, you'll be able to resume your normal eating habits. Your oral surgeon will coach you on proper implant maintenance so your new smile will stand the test of time.
You'll have to make some significant dietary changes after your dental implant surgery. However, any inconvenience you experience will be well worth it when your new smile is firmly in place!
Meet the Practice
Drs. Steve Koo, Tom Weil, and William Shepard are the three talented oral surgeons at Piney Point Dental Implant Center. They perform each procedure with the goal of helping patients enjoy an easy, efficient recovery. To learn more about our practice and what you can expect from dental implant surgery, contact our team at 713-597-7340.