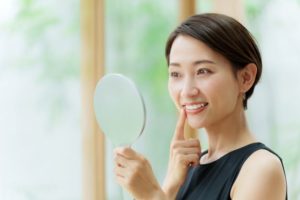 Did you know that dental implants come in different sizes? Traditional ones are usually 3.4 – 5.8mm wide, whereas mini ones are 1.8 – 3.3mm wide. Under which circumstances is each type typically used? If you are not eligible to receive traditional implants, might you be a candidate for mini dental implants instead? This blog provides useful information on that topic.
Mini Dental Implants for Patients with Bone Loss
In order for dental implants to succeed, their circumference should be completely surrounded by a patient's jawbone. Unfortunately, some patients have lost a significant amount of bone volume. In fact, their jaw may have shrunk to the point where it is too narrow to support traditional dental implants.
In some cases, a narrow jawbone can be corrected with a surgery known as ridge augmentation, which is a special type of bone graft. In other instances, it might be better for a patient to get mini dental implants. Their smaller width means they are much likely to fit within a patient's jaw, even if the individual has suffered a significant amount of bone deterioration.
Are Mini Dental Implants Right for You?
An oral surgeon is the best person to determine whether you should receive traditional dental implants, mini dental implants, or another form of tooth replacement. Generally speaking, you might be a candidate for mini implants if:
You are a long-time denture wearer. It is common for denture wearers to experience bone loss in the jaw. Mini dental implants may be able to stabilize your prosthetic and increase your bite strength.
You are missing one or more teeth. While mini dental implants are often used to stabilize dentures, they can also be useful for replacing one tooth or a few teeth.
You are interested in expedited treatment. The surgery for placing mini dental implants is less invasive than what is necessary for traditional treatment. Therefore, you may enjoy a much faster recovery time.
You are in good oral and overall health. You should be free of active gum disease and other oral health conditions that might threaten the success of your implants. You should also be well enough to undergo minor surgery.
Mini dental implants are a remarkable treatment that has already helped countless patients — they may be perfect for you as well!
Meet the Practice
Piney Point Dental Implant Center in Houston is home to three board-certified oral and maxillofacial surgeons. Our team is proud to offer traditional dental implants, mini dental implants, and more in our inviting, modern practice. To learn more about your tooth replacement options, contact our office at 713-597-7340.