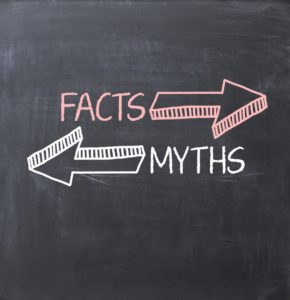 If you have lost one or more teeth, you have likely done some reading about your options for rebuilding your smile. You may have come across some excellent, helpful information… but perhaps you've also encountered some articles that don't have the facts quite right. We're here to set the record straight regarding five common myths about dental implants in Houston.
Myth #1: Dental Implants Are for Old People
Yes, dental implants have helped many seniors to regain a strong and healthy set of teeth. However, they are not exclusive to people who are up in years. In fact, as long as your jawbone is fully developed — which usually occurs by the time a person is in their early 20s — you may be a candidate for dental implants. No matter how old (or young) you are when you receive dental implants, it is likely that your rebuilt smile will last for the rest of your life.
Myth #2: Getting Dental Implants Is Painful
Oral surgeons take great care to ensure that patients feel little to nothing during the dental implant surgery. After the procedure, some swelling and soreness are common. However, you should be able to manage any discomfort by taking pain relievers and diligently following your surgeon's postoperative instructions.
Myth #3: Dental Implants Don't Look Natural
Dental implant posts are quite dark, but they virtually disappear once they are placed beneath the gumline. The artificial teeth on top of dental implants (called restorations) are designed to complement a patient's facial characteristics and blend in with any remaining natural teeth. People will notice your beautiful smile, but they are highly unlikely to notice your dental implants.
Myth #4: Dental Implants Are Prohibitively Expensive
Dental implants do present a higher upfront cost than other tooth replacement options. However, their many benefits — including their outstanding longevity — make them a wise investment. Plus, they are more affordable than most people think. Medical and dental insurance often cover at least part of the treatment, and financing is available for most patients.
Myth #5: Dental Implants Come with Dietary Restrictions
The only time you will have to watch your diet with dental implants is when your mouth is recovering from your surgery. You don't want to do anything that could slow down the healing process. However, once your mouth heals and your restorations are in place, you will be free to eat virtually anything. Dental implants are strong enough to stand up to raw fruits and veggies, tough meats, and much more.
Houston dental implants are a remarkable tooth replacement option. Don't let misinformation about them stop you from finding out how they may benefit you.
Meet the Practice
Drs. Tom Weil and Steve Koo are dedicated oral surgeons with decades of combined experience. They are both Diplomate of the American Board of Oral and Maxillofacial Surgery, and they have undergone extensive training in a range of implant techniques. They are proud to work alongside the newest addition to our practice, Dr. William Shepard, to provide truly outstanding dental implant care to residents of the greater Houston area. To learn more about our team and our services, contact us at 713-597-7340.