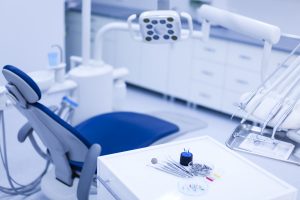 A child's first set of teeth (primary, or "baby" teeth) usually fall out beginning around age 6 or 7. When everything goes like it should, each one is replaced by a permanent, or secondary, tooth. But sometimes, there is not an adult tooth waiting to replace the first one — and that can lead the baby tooth to hang around in the jaw line for years after the others are lost and replaced. We call these lingerers "over-retained" baby teeth. Dental implants provide a successful replacement — keep reading to find out more about solutions for adult baby teeth.
Why Some People Have Adult Baby Teeth
A small number of adults will hold onto one or more of their baby teeth past childhood. While the causes of over-retained baby teeth are not exactly known, genetics can play a factor, as well as injury, facial trauma, and infection.
If the baby tooth isn't lost at the right time due to a lack of the permanent one behind it, the primary tooth will become ankylosed, or fused together with the jawbone, and remain in the smile for decades.
The most common tooth to be missing is one of the lateral incisors, or the teeth that are located right beside your two in the very front. The lower premolar, or the first, smaller back tooth, is also frequently missing. These over-retained baby teeth can also cause alignment issues in the bite, which may mean that orthodontic treatment is necessary alongside replacement of the tooth.
How Dental Implants Replace Baby Teeth
Evidence shows that a baby tooth that lasts until age 20 will stay in the jaw until age 40. At that time it will usually fall out and require replacement — but seeking extraction and replacement before the tooth finally comes loose can help you enjoy better smile health throughout early adulthood.
If you have a baby tooth that needs removal, a dental implant provides a comprehensive solution that fuses with your jawbone for unsurpassed stability. You may need to have a bone grafting procedure to build up volume in the space where the implant will be placed. Your implant dentist can help you understand what to expect from an implant procedure to replace a baby tooth.
A dental implant is a titanium post that takes the space of a missing tooth located anywhere in the jaw. A prosthetic root holds a single crown in place, allowing you to eat, speak, and smile with full confidence. People who are in good oral and overall health are typically good candidates for implant dentistry. Diseases affecting the immune system, like uncontrolled diabetes, may affect your eligibility for dental implants.
Let's Discuss Baby Tooth Replacement!
Do you still have one or more adult baby teeth? You don't have to live with them any longer. Talk to your dentist about tooth replacement. The team at Piney Point Dental Implant Center provides comprehensive solutions to missing teeth — find out if you are an eligible candidate for dental implants! Schedule an appointment today.